by cyrating | thu, 07 dec 2017
Cyrating enters the Start program of Blue Factory, the ESCP Europe sublimator of startups
Cyrating will benefit from the Blue Factory community of entrepreneurs, and its portfolio of services such as caring, coaching, the extensive ESCP Europe network in Europe, its researchers and labs, alumni and recent graduates.
Organizations, both private and public, face an increasingly high level of cyber threat. At the present time, the maturity of each of them faced with new risks diverges completely.
Cybersecurity is now a strategic issue for corporate governance and their boards of directors. Managing cybersecurity risks, and even more those of their suppliers or vendors, remains a huge challenge for senior executives. Leaders do not have objective data points to evaluate and manage their cybersecurity performance, benchmark themselves and take decisions.
The first cybersecurity rating agency rooted in Europe, incubated last October 2017 at . It offers any organizations the means to evaluate their cybersecurity performance and effectiveness, and that of all their subsidiaries and vendors. By positioning itself as a trusted third party, it responds to the need of organisations to analyze their cyber risk objectively. Access to an objective and actionable rating brings this common understanding to all, and facilitates dialogue between senior executives and cybersecurity specialists.
Cybersecurity rating is a powerful management tool like financial tools or operations' tracking. The recent large-scale data breaches (e.g. Merck, Equifax, Deloitte, etc.), as well as the strengthening of regulations in Europe and around the world, require urgently executives to seek greater cybersecurity and better effectiveness.
In the cybersecurity industry, the start-up ambitions to play a role often requested by the organizations, but never provided until now: facilitating the incorporation of cybersecurity into corporate governance. Cyrating aims to support board members in order to improve the cybersecurity performance of their organisations, and their overall resilience.
« We are proud to join the Blue Factory Start program. Cybersecurity is a societal stake for our business and economy. Rating will bring transparency and will help improve cybersecurity of organisations » says François Gratiolet, co-founder of Cyrating.
The venture is the first of its kind in Europe. In Europe and around the world, few start-ups provide such a similar service. « It's a booming business in the U.S. » says François Gratiolet. This precociousness on the European market is an opportunity for Cyrating, whose activity relies on a scalable and powerful platform and a rating process. The start-up offer will be launched commercially in January 2018 at the FIC, the European largest cybersecurity fair. In the course of its development and its use cases - quite recent since Cyrating has only a few months - it has already evaluated one thousand companies. «In a year, we should be at more than 50,000 rated organizations » predicted the co-founder.
About Blue Factory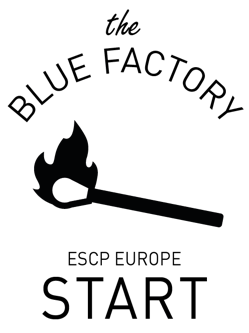 The is the sublimator of startups of ESCP Europe. Through its Start, Seed and Scale programs, it accompanies students and alumni entrepreneurs from ideation to the internationalization of their projects. The philosophy of caring, community, and taking into account societal issues characterizes the entrepreneurs of the Blue Factory among which we can mention Makesense, Ticket For Change, Welcome to the Jungle, Dashlane or the 3 Owls.
About Cyrating

Cyrating is the pioneer cybersecurity rating agency established in Europe. Cyrating evaluates the cybersecurity performance of organizations using objective and independent ratings. Cyrating provides through its web platform the ratings of organizations, their subsidiaries and their vendors or partners, as well as their positioning in their respective industry.
Press contacts